Data Recovery
Aurora, Newmarket, Oak Ridges - York Region Data Recovery
Data recovery is a process for extracting data from failed, corrupted, or physically damaged media devices such as Hard Drives, Raid Arrays, Tapes, and other computer removable media. Although measures may be in place to prevent loss of sensitive information sometimes circumstances beyond the control of the average user will cause data to become inaccessible.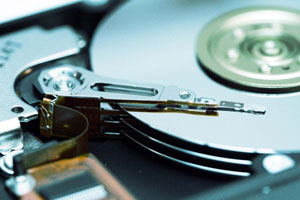 The good news is that data recovery is possible in 85% of all data loss cases.
MIB Computers full data recovery, file repair and disk diagnostics is the solution to your lost or corrupt data. We offer a free diagnostic evaluation, 100% satisfaction guarantee, and fast and confidential service. We also have a "No Data Recovery – No Charge Policy" which ensures that payment will only occur if the recovery was successful. Our Emergency Boot Media disk is able to recover data from systems that cannot boot to Windows. Whether it's a Word document, PowerPoint presentation, family pictures, or sensitive customer information our qualified technicians will use the best tools available to recover your lost data.
The Most Common Causes of Data Loss:
Viruses
Software Failures
Application Failures
File Corruption
Hard Drive Crashes
Server Failures
Tape Cartridge Failures
RAID Configuration Failure
Power Surges
Natural Disasters (floods, earthquakes, fires, lightning)
Human Error
The consequences that can occur as a result of data loss crisis include employee downtime (loss of productivity), compromised information, loss of client/customer information, loss of term papers and key projection information, and personal files such as family portraits, vacation photos, letters, and personal documents. The impact of data loss can be devastating.
Measures You Can Take to Reduce the Risk of Data Loss:
Never store your documents on the same drive as your operating system
Back up your files regularly, no matter where they're stored
Be mindful of email attachments
Take advantage of safeguards included in your applications and software
Keep hardcopies of your documents
If you require data recovery for your hard drive or would like a free consultation then call MIB Computers at 905-841-5105.
Rates:CALL
Due to the wide variety of Data Recovery Processes and the unique nature of each problem please call for a free evaluation. If there is no data recovery then there is no charge.